How to Jump Start a Car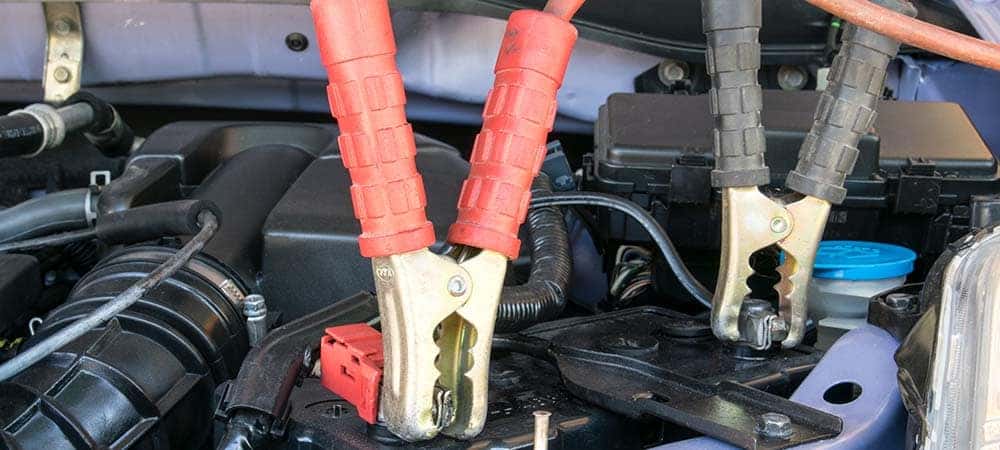 When your vehicle won't start, you'll need to jump start your car battery. To learn the proper way to jump start a car, follow these simple tips from the Sam Leman Mazda service center. If your battery is old or your car won't jump start, it's time to have your battery replaced. While here, be sure to browse our Mazda Miata parts and accessories and more to further enhance your drive.
How to Properly Jump Start a Car
To jump start your car, you'll need a set of jumper cables and another vehicle to hook them up to. You could also contact a jump start car service. But if you prefer to do it yourself, follow these steps:
Have the second car with the good battery park facing your vehicle. Make sure the vehicle is turned off, and both vehicles should have their parking brakes on.
Open both hoods and find the batteries. Identify the positive and negative terminals, making sure they're free of dirt and/or corrosion.
Connect the red clamp to the positive terminal on your vehicle's battery. Attach the other red clamp to the positive terminal of the other vehicle's battery.
Connect the black clamp to the negative terminal in the other car, then connect the final clamp to an unpainted metal surface of your car's frame.
Once the clamps are all properly attached, start the engine of the second car first, then start your car.
Keep your vehicle running for a while after you've jumped the battery to allow the battery to recharge after it's been drained.
More Battery Tips and Tricks
If your car won't start, even after you've jumped the battery, you might need to replace the battery, or it could be a sign of another issue.
If you you hear a click sound when you try to start your vehicle, the starter might be malfunctioning.
If the engine won't turn over but the electrical systems turn on, it could be an issue with the battery, ignition switch, fuse, or starter.
If you experience these or other issues with your used Mazda3 or Mazda CX-5, it's time to schedule a service appointment with your local Bloomington service center. Let the specially trained service technicians diagnose the problem, so you get your vehicle back in proper working order. Also, be sure to browse our Mazda6 accessories and more to further enhance your commute. Contact us with any questions about our services, Mazda SUVs, to learn about the Mazda6 configurations, find out what happens if you don't change your oil, find scenic drives in Illinois, or to compare our models like the Mazda CX-3 vs. CX-5.
More From Sam Leman Mazda
The Mazda CX-5 has built a reputation for providing Normal drivers like you with a dynamic driving experience and an incredible design. Luckily, the 2022 Mazda CX-5 is no different and will continue to provide impressive performance and beautiful styling that's sure to turn heads. However, what really makes the new Mazda CX-5 special…

Opt for a new Mazda vehicle, and you're getting a high-class ride that's packed full of features to make your Normal adventures more memorable. While there's plenty to appreciate with almost any new Mazda vehicle, the 2022 Mazda CX-30 is a popular choice among many shoppers. The new Mazda CX-30 features exceptional performance and a…

Are you on the hunt for an SUV with serious traction, handling, and performance? Take your adventures to new heights with the new Mazda CX-5. From a wealth of standard features to a spacious and versatile interior, it's easy to see why so many Normal shoppers leave our dealership in this stunning SUV. But,…