What Happens If You Don't Change Oil?

Oil is important to your vehicle's powertrain as it lubricates the moving components to minimize friction, maximize efficiency, and reduce the risk of damage. So what happens if you don't change your oil? Well, the engine oil breaks down over time and gets less effective at lubricating — it also picks up debris that can increase friction.
As friction increases, things get hot — hotter than the manufacturer intended — and that's when the damage starts. Learn more with the Sam Leman Mazda service center below to keep your car running smoothly around Normal.
What Does Motor Oil Do?
Motor oil is a lubricant for your engine. More specifically, engine oil has the following important roles in vehicles:
The main role of motor oil is to reduce wear and tear on moving parts due to friction.
Motor oil with dispersants is designed to clean sludge from the engine.
Detergents in motor oil help clean varnish from the engine as well.
When changed regularly, motor oil can help neutralize acids that form from fuels, improve piston ring seals, and cool the engine by moving heat away
How Often Should I Change My Vehicle's Oil?
Experts used to tell drivers to have the oil changed every 3,000 miles, but today, drivers can go between 7,500 to 10,000 miles between oil change services. However, you'll want to be sure to check your owner's manual for more specific instructions and keep in mind your driving habits. If you drive long distances every day, for instance, you may need an oil change more frequently.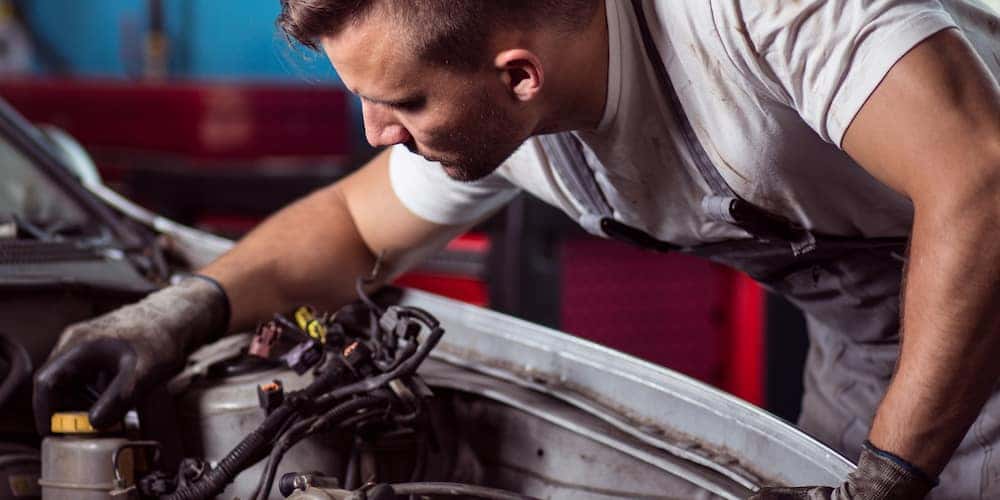 How Do I Change the Oil Myself?
After checking your owners manual to determine what type of oil your vehicle requires, follow these simple steps to change your oil at home:
Jack your car up with jack stands or steel ramps.
Locate the oil drain plug on the bottom of your oil pan underneath your engine. Place an oil basin directly underneath the plug, then unscrew the plug and allow the old oil to drain out completely – this may take up to 15 minutes. When you're sure all the oil has drained, you can replace the plug.
Locate your oil filter, and remove it with an oil filter wrench. Expect a bit of extra oil to drain out when you remove the filter and make sure you keep the basin underneath to catch it.
Grab your new filter, being sure to rub a bit of oil around the rubber seal – this ensures your filter is watertight and is an essential step.
Set the new filter in place, then tighten it by hand.
Now that your old oil is completely drained and a new filter is in place, you can remove your oil cap. Pour in the specified amount of new oil, which you can find in your owner's manual if you're unsure. Finally, replace the oil cap.
Before you call it a job well done, you should check your oil level by pulling out the dipstick. If you're still low, you may add another ounce and check the level again. Once you get a proper oil level reading, you're good to go!
Turn to Sam Leman Mazda for Oil Change Service and More!
Now that you know what happens if you don't get your oil changed, you'll be better equipped to care for your vehicle. If you don't want to attempt to do this on your own, contact the Sam Leman Mazda service center to schedule a service appointment. Have questions in the meantime about our services? Don't hesitate to contact us. Also, be sure to check out our available service coupons to help you save more on the services your vehicle needs. Want to learn more about our models? We can help with our guides so you can compare the Mazda3 vs. Mazda6, check out the Mazda CX-3 colors, and more!
---
More From Sam Leman Mazda
Whether you're looking for a plush family car in Normal or a high-tech commuter vehicle for Springfield, the 2020 Mazda6 is one of the most versatile vehicles around. It has turbocharged power and head-turning exterior design, but the Mazda6 interior just might be our favorite part around Morton. No matter which of the five Mazda6…

The Mazda3, available in sedan and hatchback forms, is a car that'll take you places in Normal. Because of the great Mazda3 gas mileage, you'll be going quite a while between trips to the pump. Sam Leman Mazda has the inside scoop on the Mazda3 gas mileage and while you're here, you should take a look…

Sedans don't get much better than the Mazda6. You're getting Mazda's quality engineering as well as their value and with so many 2020 Mazda6 configurations to choose from, you've got plenty of options to make your drive your own. Sam Leman Mazda is about to lay out all the Mazda6 MSRPs and give you a look at…