You've seen the yellow light with the exclamation mark on your dash, you know it means TPMS, but what does TPMS mean? TPMS stands for Tire Pressure Monitoring System, which uses pressure sensors to ensure your tires are properly inflated. If it senses one or more of your vehicle's tires aren't at the recommended pressure, the TPMS warning light on your dashboard will turn on or flash, so you know to add air to your Mazda CX-5 or Mazda3.
Most new vehicles have TPMS, making it easy to prevent tire failure and maintain good vehicle handling when driving around Normal and Springfield.
Tire Pressure Monitoring System Features
If you notice that your tire pressure light is on, it means that the TPMS system believes your tires are under-inflated. It's always important to check your tires after the TPMS light comes on, as under-inflated tires can cause:
Poor traction
Decreased load carrying capability
A flat tire or blowout
Poor fuel economy
In the short-term, proper tire inflation can reduce the risk of an accident. In the long term, it can ensure you get the full mileage out of your vehicle and maintain its reported fuel economy.
The tire pressure monitoring system makes a once-difficult task easier: you no longer need to periodically check your tire pressure around Morton.
Proper Tire Inflation
Many drivers respond to the TPMS light by adding air to one or more tires, but the light can come on if a tire is over-pressurized as well. A properly inflated tire will:
Reduce tread movement and increase tire lifespan
Reduce rolling resistance and increase fuel efficiency
Increase water dispersion and reduce the risk of hydroplaning
As with oil change frequency and other routine maintenance needs, your owner's manual will detail the proper tire pressure for your vehicle (you can also often find it on the door frame and on each tire).
When it's time to fill up your tires, you have a few choices:
Many gas stations have tire filling areas.
You can take your vehicle to your favorite service center.
If you're at home and just need to top off the tire, you could even use a bike pump (though an air compressor would be ideal).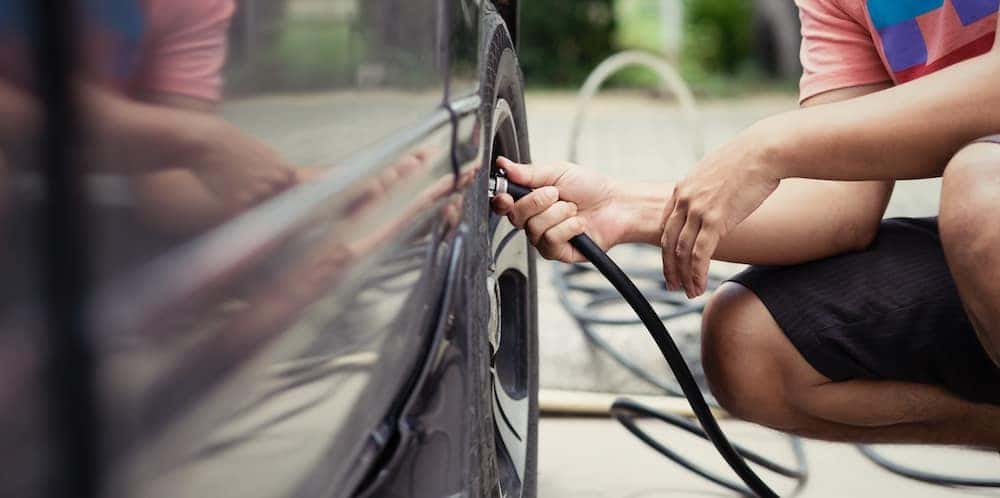 How to Reset a Tire Pressure Light
If the light is still on after properly inflating your tires, you might have another problem. If you're considering resetting your tire pressure light, you can drive at or above 50 mph to reset the sensor for 10 minutes, which should cause most tire sensors to reset the next time you start your car.
Resetting the electrical system of your vehicle will often force a reset of these sensors as well. If you want to try this, the simplest way is to disconnect your battery (when the vehicle is turned off) and let any lingering power in your car's electrical system fade away.
Should You Reset Your Tire Pressure Light?
Unless you're a trained mechanic and have done everything you can to turn the TPMS light off properly, you probably should not reset your tire pressure light. If it's concerning you, bring your vehicle in to Sam Leman Mazda where we can take a look and figure out what might be a deeper cause for the light to be staying on despite your best efforts.
But like with any dashboard warning light, the TPMS light turns on for a reason. And the last thing you want to do is ignore it — which is what resetting the light often does.
Keep Your Vehicle Running Properly With Sam Leman Mazda
Have more questions about maintaining your tires or need help making sure yours are properly inflated? Our service center has certified technicians standing ready to help. Contact us today to find out more!